Singhu horror: Mob chops off man's hand, lynches him; 1 held | India News – Times of India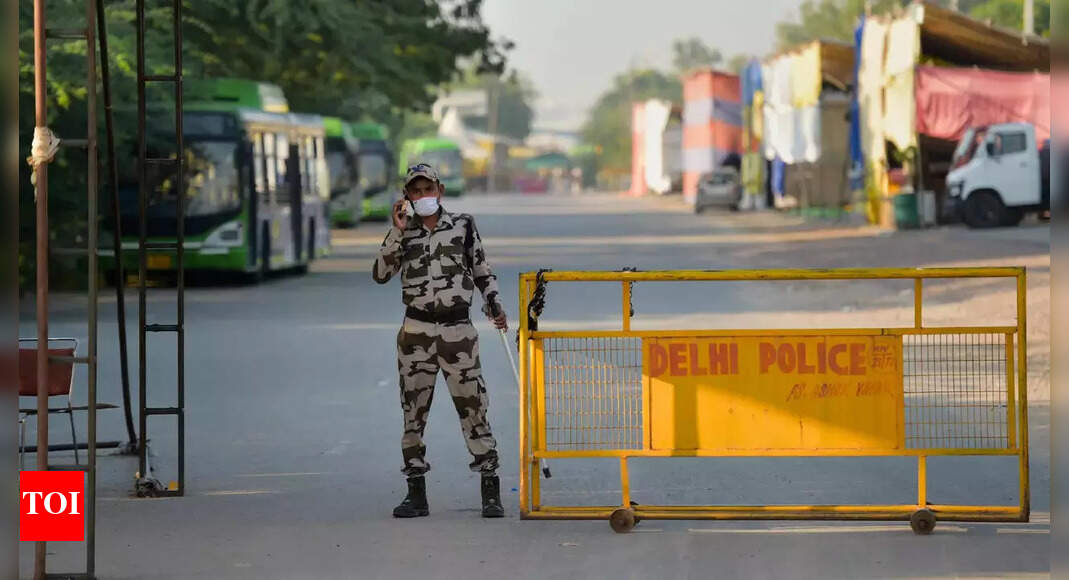 NEW DELHI: In a gruesome incident that has cast a shadow over the farmers' protest at Singhu border, a 35-year-old man was beaten up by a mob, allegedly led by Nihangs, his left hand chopped off and both legs broken with a blunt object early on Friday morning. After he died of his injuries, his body was tied to an overturned police barricade in a version of medieval justice even as the mob exulted over their action.
The provocation was an alleged desecration of a Sikh holy book though people
TOI
spoke to had different versions and there was no clarity. The incident happened between 2am and 3am, and by morning, videos capturing the macabre incident at the Kundli end of the protest had started circulating.
The victim has been identified as
Lakhbir
Singh, a labourer from
Tarn Taran
in Punjab. He had arrived at the protest site about a week ago and used to stay with the Nihangs and eat at the langar.
One person, Sarabjeet, who was later at night brought to the police by a group of protesters, has been arrested in the case. "Following our investigation, we arrested one Sarabjeet, a
Nihang Sikh
. He told us that he saw Lakhbir committing sacrilege on their holy book and so he chopped off his wrist," said
DSP Hansraj
. An autopsy has been conducted by a board of doctors which has confirmed the injuries on the body.
Police believe many others were involved in the killing. "The severance of the wrist was not the only reason behind the death. He was beaten up brutally and lathis were used," said an officer. They are now scanning the videos in which some people have allegedly owned up to the murder.
The Kundli police had responded to a call around 5am and rushed to the spot. "The man's wrist had been chopped off and legs broken and he was tied to a barricade. He had already died," said a policeman who was at the spot.
According to an officer, the protesters were non-cooperative and initially didn't allow them to remove the body. Later, the cops managed to send the body to hospital. Sandeep Khirwar, ADGP Rohtak, said they have registered a case under sections 302 and 34 of IPC, pertaining to murder and collective criminal acts.
Recalling the incident, farmer Balwinder Singh alleged that the man had desecrated the Sikh holy book and was caught near a makeshift hospital where people gathered and assaulted him. "Some protesters cut off his wrist but we don't know who attacked him with swords," he said. A Nihang Sikh said, "In a mob attack, it is very difficult to know who initiated the violence. The crowd has no face." Another farmer said that a Nihang had found the holy book missing from a tent and raised an alarm. People began shouting "pakdo, pakdo (catch him)".
Conspiracy theories are floating in the air. Sukhbir Singh, who lives a kilometre-and-a-half away from the lynching site, said: "The man had been instigated by someone. He fled with the holy book but was caught and thrashed by the crowd. There were 200-250 people involved and I don't know who attacked him with a sword."
Sukhbir saw the man tied to the police barricade with his wrist chopped. "He was not alive when I saw him. The police came and took away his body," he said. Karma Singh, an elderly man, reiterated, "I saw his hands tied to the barricade. I have never before come across such a scene."
In a video that later emerged on social media, which TOI can't authenticate, some men are seen standing near the barricade to which the victim is tied. One man is heard saying, "We have caught him and chopped off his hand. We have proof that he was given money and sent here." In another video, a person claiming responsibility for the lynching, says, "Our group carried out the killing. It should be seen as a warning that anyone desecrating our holy book will have to face the same action."


Main Article
Disclaimer: This post has been auto-published from an agency feed without any modifications to the text and has not been reviewed by an editor.